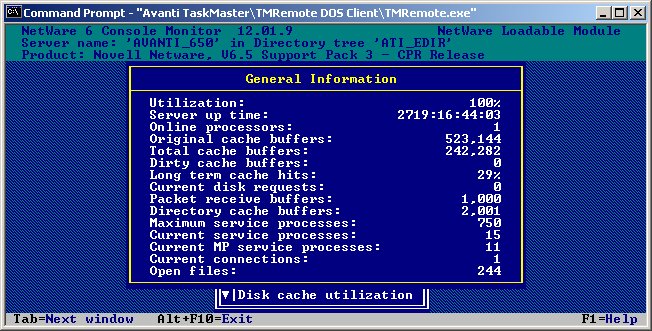 This post ties together Server Uptime, Dave Kearns from Network World, Steve Meyer - CEO of Avanti Technology, and DANUG - Denver Area Novell Users Group. Where to begin...
Back in November I
posted a blog
and link to Novell Cool Solutions which was running a contest and asking for screen shots for the
longest NetWare Server Uptime
.
Dave Kearns from NetworkWorld got wind of the Novell Cool Solutions article and posted an
article titled Marathon
servers about NetWare Server Uptime also. Dave mentioned the lack of NetWare 6 longetivity so Steve Meyer, president of Avanti Techology posted a screen shot of a NetWare 6 server that had been up for 7 years. Some of us examined the screen shot and noticed that it was a screen shot of a NetWare 6.5 SP3 server. Well... you can do the math.. there is no way a NetWare 6.5 server has been running for 7 years..... so... what gives?
I quote from a
follow up article from Dave Kearns
:
"Now even though Meyer gets early beta and even alpha releases so he can develop the great utilities he publishes, there were no copies - even alpha copies - of NetWare 6 back in 1998! Meyer said, "I swear that I did not alter or edit the image in any way shape or form." And I believe him. On the other hand, he also said: "All right, I admit that I might have played around in the kernel a bit." I hope the guys at Novell Cool Solutions don't accept entries from developers!"

Recently Steve Meyer issued an apology on Avanti's Website directly to Dave Kearns with more explanation:


Avanti's President Issues Long Overdue Apology
This is very big of Steve Meyer to come clean.
Now... as a side note: Notice on this very web page with the apology toward the bottom of the page.
You'll notice an invitation to come meet Steve Meyer as he gives a presentation to the
Denver Area Novell Users Group or DANUG
.
DANUG (Denver Area NetWare Users Group)
Date:
Time:
Location:



Thursday, February 9th, 2006
6:00pm - 8:30pm
BurgSimpson ( map )
40 Inverness Drive East
Englewood, CO 80112
http://www.burgsimpson.com
TaskMaster on Tour: Automating NetWare Server Management Tasks

Replicating Data and Synchronizing Files between NetWare Directories, Volumes and Servers, on a local LAN or across the WAN, COMPLETELY AUTOMATED with FULL NetWare compatibility. All with only a single NLM and a single TaskMaster Command (SYNC). The Scheduler, Scripting Language and Extended Command functionality, plus Multi-Session NDS Secure Remote Console support, all built-in. And SYNC is but one of over 60 Extended Commands included in TaskMaster.

Note:
This is a live technical demonstration by the Steve Meyer (President of Avanti Technology, Inc. & Chief Architect for TaskMaster), not a sales pitch or slide show presentation.
I hope to see many of you there because this will be a very good presentation! And we can all give Steve a hard time about his server uptime!
- Bucky
Web Site References: